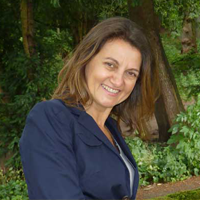 Ivana Straska, M.A. is a professional, highly skilled in education and psychotherapy.

She has experience of clients with various emotional and mental encounters and has training in Cognitive Behaviour Therapy (CBT), CBT for anxiety & depression, CBT for complex disorders, Solution Focused Brief Therapy (SFBT), Cognitive Processing Therapy (CPT) for trauma, Motivational techniques, Behavioural management, Guided Mental Imagery, Mindfulness and Relaxation.

Ivana has additional training and experience in Autism Spectrum Disorders and Applied Behaviour Analysis. She has vast experience in psychological rehabilitation, depression, anxiety, trauma, PTSD, self-esteem, relationships and behavioural management, and has degrees in Education & Counselling.

For many years Ivana had a succesful private practice in the Greater Toronto Area, Canada. Moving to the U.K. in 2015 she gave up her business to throw herself into new exciting projects, including a self-help series of books "The Strongest You". Ivana continues to help clients with her passion and dedication while also emarking on a variety of other related enterprises. For more information see her website "Ivana International".